Check out our some of our new arrivals!!
It's all about the plants!
4ft Porch Planter $78
This adorable DIY porch planter is perfect to spruce up your poirch!  Several design styles to choose from!
Shop now!
3 Tier Plant Stand $75
This awesome project is a great way to show off your green thumb!   Great for flowers or your own personal herb garden.  
Shop Now!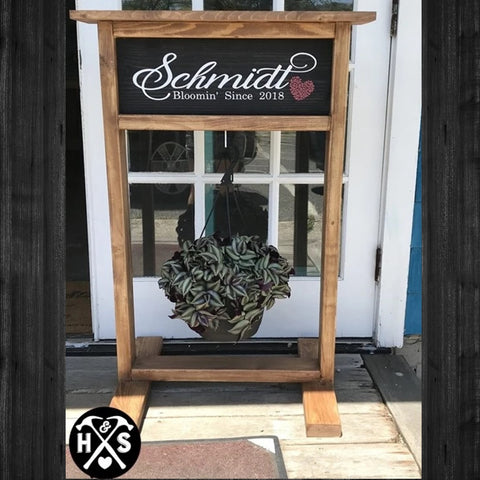 Hanging Plant Stand $75
Spruce up your entrance way with the fabulous hanging plant project!  There are several personalization choices to choose from! 
Shop Now!
Perfect gift for wine lovers!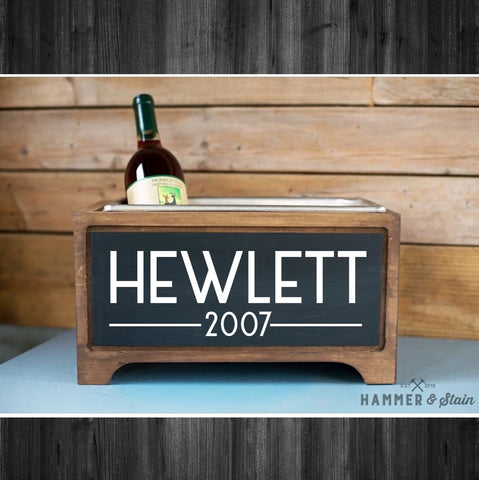 The perfect wine chiller! $65
Your favorite beverage will look great in this DIY project.  Several designs to choose from so you can personalize it to your taste!
Shop Now!
Wine Tote $50
Nothing could be better!  Relaxing with your favorite someone and enjoying a nice bottle of wine.  Priceless!  You'll enjoy making this one! 
Shop Now!
Its all fun & games!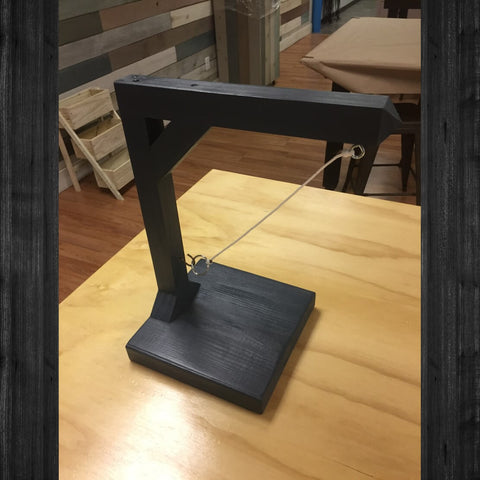 Ring on a String Pub Game! $50
This is a fun and addictive pub size of the popular game!  Sometimes called Bimini Ring this is a fun game to play.  Test your skill making and playing this favorite DIY project.
Shop Now!
Cornhole Game $175
We are taking advanced orders for these!  Tap into your creativity personalizing these cornhole boards for you and your family/friends to enjoy!  
Shop Now!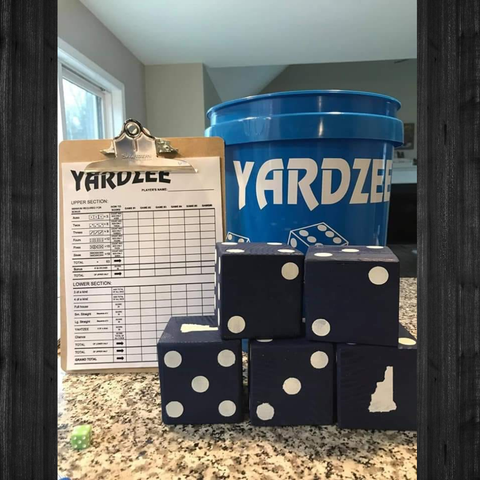 Yardzee! $50
Tons of fun with this one!  Not only making it, but playing it with family & friends!  Decorate it to fit your personal style!
Shop Now!
Need Custom Designs? We can Help!
We love to do custom projects!  If you need one item or a few we can help.  Contact us via the link here and lets see what we can do together!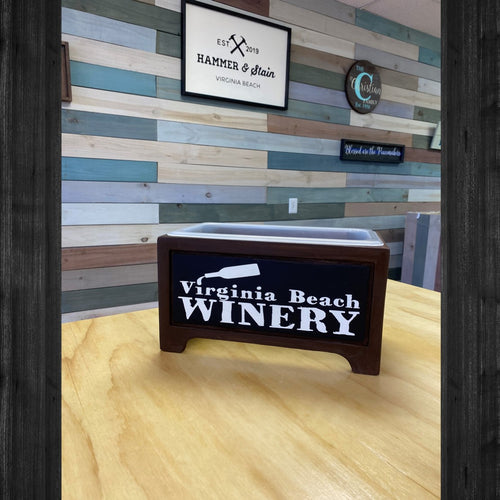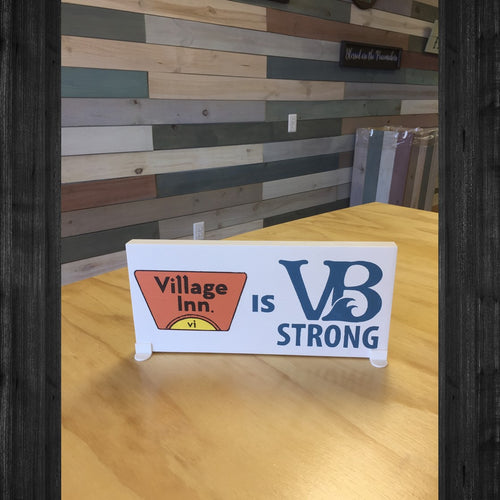 Tell us how we did!
We would love to get your feedback!  Your business is so important to us and your comments help us serve you better.  Thank-you for your business!
Post a Google Review
What Our Makers Are Saying
We attended the Valentine's couple event and had a wonderful time. Super cute place and very sweet owners. We will be back!

Wendy L. Virginia Beach, VA
Thank you for the great time, the entire staff had a fun evening learning how to do woodwork, painting and staining, and all have a beautiful keepsake memory that they are proud of!

Bob S, Virginia Beach, VA
I really enjoyed the Rustic Bench Class, it was not only fun but educational. My bench looks perfect in my guest room. Thank you!

Barbara K., Virginia Beach, VA
The customer service was amazing! The experience itself was a calming relaxing way to start the day! I love the idea behind this place and my husband is already talking about returning to make a shoe rack!!! Mind you, my husband is not very easy 

Audrey C, Virginia Beach, VA
Great place for a girls night! :) Or even a couples night. Three ladies brought their husbands and did their projects together as well! Fun time had by all.  Everyone's project turned out wonderful. Very fair price too considering the space, materials, color options, and professional experience to make sure my project turned out just right!

Dara J. Locust Grove, GA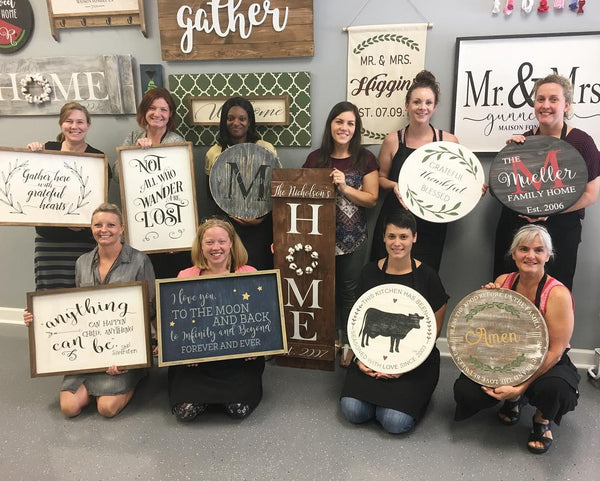 What To Expect
Never been to a wood and paint studio? No worries, you are not alone!  Here is what to expect when you arrive:
Both your wood and your personalized stencil will be placed on a work table at a reserved spot. If you requested to be seated next to a friend, you should find their design in the spot next to you.  In order to protect your clothing, you will want to put on the apron provided. If you also wish to place your purse/handbag away from the work table, there is a designated area where you can safely place your things. 
Once everyone has settled in, we will begin class. A typical class will last for 2-2.5 hours. Larger pieces and furniture projects may last up to 3.5 hours.
The instructor will guide you through the process, from start to finish. We will also help you with the selection of stain and paint color options. If you get lost, written instructions are provided at the center of each table as well as on the wall. We will be hands-on throughout the entire workshop, but if at any time you have questions or need help, please let us know! We are there to HELP YOU!! 
PAINT. LAUGH. CREATE.
As the workshop progresses, know that not everyone will be moving at the same pace. This is normal – don't compare yourself to anyone else. This is YOUR project and YOUR experience! HAVE FUN, ENJOY YOURSELF, and BE PROUD of your creation! Again, we are there to help. So, if you have questions or need a hand with your project, let us know!
When you have finished your project, you are free to go! BUT before you go, and if you are up for it, we'd love to get a picture of you with your project for our gallery!
Last, but certainly, not least … we are so grateful to you for spending time with us at our workshop, and we hope to see you again very soon!
Book a Workshop
Some Neat DIY Tips you may enjoy!